NYC Ganesh Utsav 2020
August 13, 2020 - New York Indian community will celebrate the Hindu festival
Ganesh Chaturthi
from August 26-30, 2020 four days after the actual day of the festival.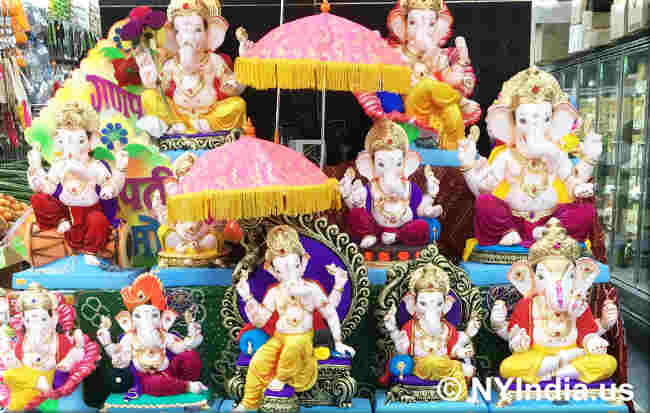 The actual date of Ganesh Utsav festival this year falls on Saturday August 22, 2020.
The 2020 NYC Ganesh Utsav festival celebrations are scheduled to take place at
24 Seaview Blvd in Port Washington, New York
.
Ganesh Utsav Festival in NYC
Besides a 14ft idol, a large modak - favorite food of Ganesh - will be on display at the
YMCA – Padavan-Preller Fields
in Bellerose, New York.
Scheduled from
August 26-30, 2020
, the Vinayaka/Vinayagar/Ganesh festival will include maha Pooja, special abhishek puja, and Jugal Bandi, Gazals, Mimicri/Comedy virtual entertainment via Zoom.
Daily Aarti
There will be one Maha Aarti during the five day NYC Ganesh Festival celebrations August 26-30, 2020.
Parking and admission to
NYC Ganesh Utsav
2019 is free.
Lord Ganesh's blessings guarantee OPT or a H1B Visa, relief from the 'bench' after entering USA, super-quick H4 Visa for the spouse, fast Green Card processing and rapid promotion in the IT programmer job.
2020 NYC Ganesh Utsav - Location
24 Seaview Blvd
Port Washington, NY 11050
Ganesh Sthapana
August 26, 2020 - 5PM-6PM
Free Darshan Timings
August 27-30, 2020 - 9:00AM-10:00AM
Maha Aarti Timings
August 26, 2020 - 5PM-6PM
August 27-29, 2020 - 6PM-7PM
August 30, 2020 - 4PM-5PM
Ganesh Visarjan
August 30, 2020 - 4PM-5PM