NYC Indian Community Events
NYC, Flushing, Jackson Heights in Queens and Hicksville in Long Island are home to an active Indian community.
Classical music and dance programs, Ugadi, Sri Rama Navami, Ganesh Chaturthi, Dasara and Diwali, residential real estate open house tours, and a host of cultural, educational events are organized frequently by various NYC Indian community associations.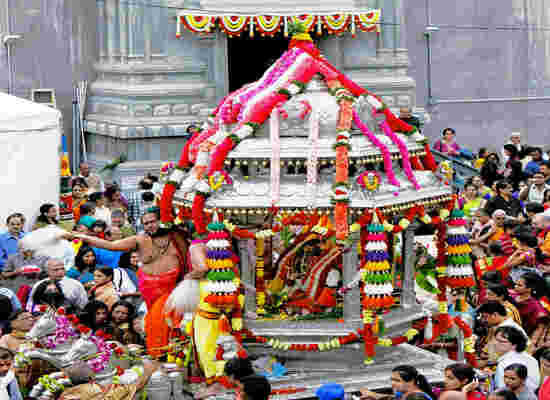 A majority of festival events organized by the Hindu temples are free.
Besides the festival celebrations, there are non-profit organizations in NYC that frequently organize art exhibitions, music concerts feturing Indian artists and lectures and talks by Social Science professionals.
Visit
NYIndia.us
frequently to find out forthcoming events organized by various New York Hindu temples and Indian community organizations.
August 18 - 27, 2017
Ganesh Chaturthi Utsav
Where
: Flushing Ganesh Temple 45-57 Bowne Street Flushing, NY 11355
When
: August 18-27, 2017
Contact
: 718-460-8484
August 20, 2017
NYC India Day Parade 2017
Where
: Madison Ave between 23rd St & 40th St, NY
When
: August 20, 2017 12PM-6PM
August 25 - September 5, 2017
Ganesh Festival Celebrations
Where
: Shiv Shakti Hindu Temple 196-43 Foot Hill Ave, Hollis, NY 11423
When
: August 25 - September 5, 2017
Contact
: 718-217-4003
August 27, 2017
Ganesh Chaturthi Ratha Yatra
Where
: Flushing Ganesh Temple 45-57 Bowne Street Flushing, NY 11355
When
: August 27, 2017
Contact
: 718-460-8484
September 5, 2017
Ganesh Visarjan
Where
: Hindu Center Temple 45-52 Kissena Boulevard Flushing, New York 11355
When
: September 5, 2017
Contact
: 718-358-6726
Until September 10, 2017
Free Public Art: Descension by Anish Kapoor
Where
: Brooklyn Bridge Park, Pier 1 Bridge View Lawn 2 Furman St Brooklyn, NY 11201
When
: Until September 10, 2017 9AM-9PM daily
Until December 28, 2017
Dance Movement for Fitness
Where
: Poe Park Visitor Center in Poe Park 2640 Grand Concourse (E 192 St & E Kingbridge Rd) Bronx, NY 10458
When
: Thursdays Until December 28, 2017 10AM-11AM
Contact
: 718-365-5516
Flushing Ganesh Temple Events
Classes in English for Adults

Where: Flushing Ganesh Temple, 45-57 Bowne Street Flushing, NY 11355

What: Classes in English for Adults Every Tuesday @ - 9:00 am

Contact: 718-460-8484



Malayalam School
Malayalam School by Hudson Valley Malayalam Association

Where: South High School, 31 Demarest Mill Road, West Nyack, NY 10954

What: Malayalam School Every Friday from 6:30 p.m. - 7:30 p.m.

Contact: shain@shain.com