Adyar Ananda Bhavan NYC
Address:


Adyar Ananda Bhavan

1071 1st Ave
(Bet 58th & 59th St)
New York, NY 10022


Adyar Ananda Bhavan NYC: No Saravanaa Bhavan This
Saravanaa Bhavan
has long been the South Indian cock of the Manhattan walk, exulting in the
oohs
and
aahs
of delighted Indian and American diners. The restaurant that new South Indian rivals like
Adyar Ananda Bhavan
must beat if they wish to survive in the fiercely competitive NYC market.
Alas,
Adyar Ananda Bhavan
is no
Saravanaa Bhavan
where food is concerned.
That is my verdict after a recent meal at
Adyar Ananda Bhavan
, located on 1st Avenue in the shadow of Queensboro Bridge.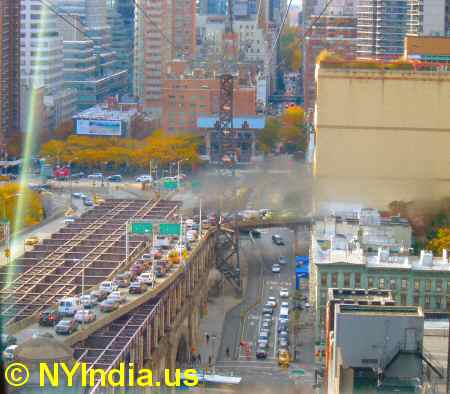 I'm not afraid to experiment, to check out new Manhattan Indian restaurants and see how they compare to the established players like
Saravanaa Bhavan
.
So when I heard
Adyar Ananda Bhavan
had recently opened on 1st Ave in NYC offering food from my part of India, I set aside all other tasks and rushed there on a chilly November day.
As I entered the dimly-lit dining room of
Adyar Ananda Bhavan
, I was greeted by a pleasant
desi
lady (the owner
Anita Gounder
???).
The same lady brought me the
a-la-carte
menu and poured water into the glasses.
When I enquired about lunch specials, I was informed the restaurant would offer a lunch buffet in a week (but Adyar Ananda Bhavan has been advertising the non-existent buffet on its web site prior to my visit and its menu too lists the $8.95 buffet).
After a quick glance at the menu, I ordered the
Adyar Thali
($16.25).
A
Thali
includes multiple items on a large steel plate and gives you an opportunity to try a variety of dishes.
Adyar Thali
Adyar Ananda Bhavan Thali included one Idly, Vada, Masala Dosa, Uthappam, Gulab Jamun, a Banana and Coffee or Tea.
Accompanied by Sambar and Coconut Chutney, Idly and Medhu Vada landed on my table first.
As I was finishing up my Medhu Vada, Masala Dosa, Uthappam, Gulab Jamun, Sambar and two Chutneys and a Banana arrived on a large steel plate.
Here's my take on Adyar Ananda Bhavan Thali, starting with Idly and Vada.
Idly, Vada
Idly and Vada came with standard South Indian accompaniments of Drumstick Sambar and Coconut Chutney.
Idly was soft but not fluffy. But the Vada was crisp as it should be.
Drumstick Sambar was piping hot. The Sambar was tasty but could have been a wee bit less thick and a tad spicier.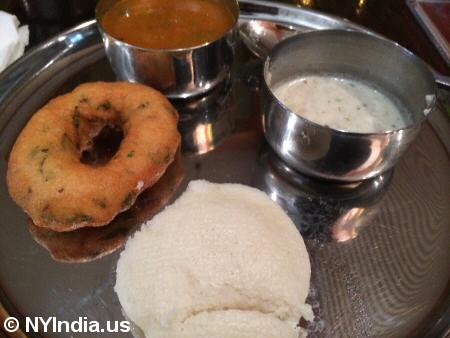 But what ruined the Idly, Medhu Vada, Dosa and Uthappam was the Coconut Chutney.
Coconut Chutney was way too bland leading me to wonder whether there is a shortage of green chilies in NYC or the Adyar Ananda Bhavan kitchen is so inept that they do not know how to make a decent Coconut Chutney.
A South Indian restaurant that can not serve decent Coconut Chutney is like an NYC Deli that does not know how to make an omelette.
Comprende
? The serving size of Coconut Chutney was so small that I was compelled to ask for more Coconut Chutney (the extra Chutney cup came
gratis
).
Masala Dosa, Uthappam
Masala Dosa was large and included the usual onion-potato curry filling.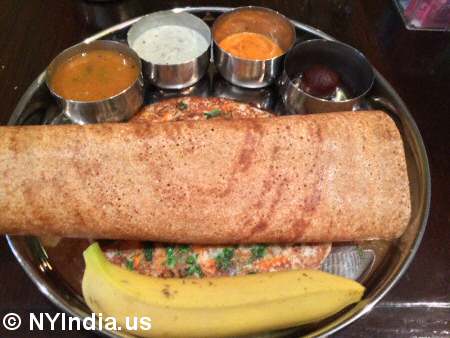 While the golden brown Masala Dosa was alright, the onion-potato filling was not good enough for my demanding palate.
Although not hopelessly bland like at a lot of Indian restaurants in NY and NJ, the onion-potato filling was underspiced.
Also, it is nowhere in the class of Saravanaa Bhavan's Masala Dosa.
Uthappam came packed with cilantro leaves, grated carrot, and chopped onion.
It was hot but nothing out of the ordinary.
A fine Uthappam does not require the accompaniments of Chutney or Sambar to add allure to it!
Masala Dosa and Uthappam came with Drumstick Sambar, Tomato Chutney and the same atrocious Coconut Chutney.
Tomato Chutney was borderline sweet.
Dessert & Coffee
Gulab Jamun was a tiny ball resting in a spoon of sugar syrup.
Gulab Jamun was warm and sugar syrup alright.
Banana was a little raw forcing me to take it home for later consumption.
I was disappointed that Coffee at
Adyar Ananda Bhavan
is not the traditional Madras filter
kapi
but the Bru instant kind. I asked for mine black. As I progressed through my meal, I asked for a second cup.
When I got my check, I noticed there was no charge for the second cup of coffee. Nice gesture!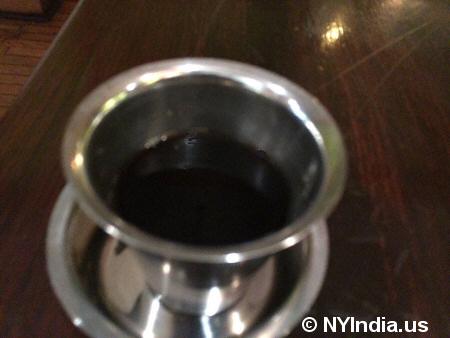 Ambiance and Service
As you enter Adyar Ananda Bhavan, you have tables upfront with kitchen and restrooms at the rear.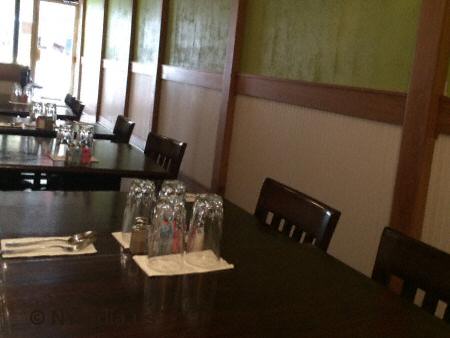 The restaurant was clean and tables arranged neatly.
Silver was neatly placed on a paper napkin. Drinking water glasses were placed upside down on a paper napkin.
Keeping the silver and water glasses on a napkin is a good table hygiene practice. Sadly, few Indian restaurants do it.
When I ordered sparkling water, I was aghast to learn that the waitress intended to add ice cubes to it since it had not been kept in the fridge.
The two staff members I encountered were pleasant unlike the sourpusses I've dealt with at dozens of Indian restaurants in NYC and NJ.
Service is definitely a plus at Adyar Ananda Bhavan.
Adyar Ananda Bhavan NYC Rating
Adyar Ananda Bhavan is definitely not a bad South Indian restaurant.
But it's no star either.
The food here earned a middling B grade from yours truly, while the service easily got a A. - ©
NYIndia.us