Spice Symphony Lexington Ave
Address:


Spice Symphony

182 Lexington Ave
(Bet 31st & 32nd St)
New York, NY 10016


Spice Symphony NYC Review: Spicy Indian Delight on Lexington Ave
When news reached me that a new Indian restaurant
Spice Symphony
had opened on Lexington Ave, I was eager to try it.
I wanted to try Spice Symphony food because Walter Rozario is one of the Chefs at Spice Symphony.
I am no stranger to Walter's curries. I have had it at
Spice Fusion
,
Salaam Bombay
and
Bay Leaf
.
Lunch Specials
Since I visited Spice Symphony around 1PM, I naturally opted for the lunch specials - Chicken ($9) and Vegetarian ($8).
Chicken Lunch
My Chicken Lunch special included Lollipop Chicken for appetizer, Chilli Chicken for entree and Hakka Noodles.
Lollipop Chicken included two pieces with green salad and dip on the side.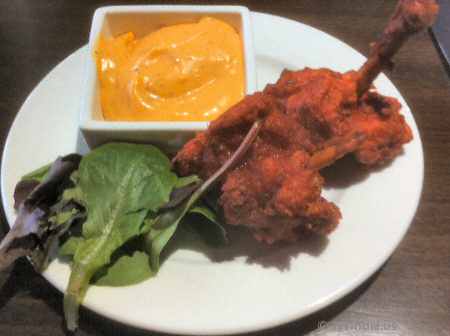 Lollipop Chicken was spicy, evenly fried and came piping hot to the table.
Chicken was tender and absorbed the spices well. At the end of the second piece, I was hankering for more and a bit peeved with the small serving size.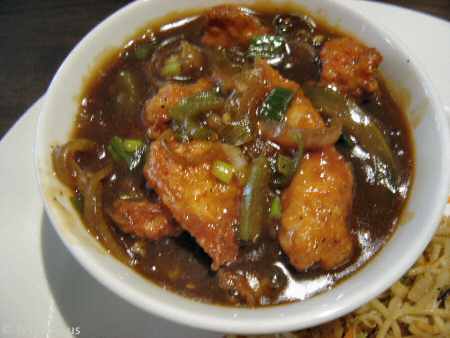 Chilli Chicken and Hakka Noodles were close competitors to Lollipop Chicken in both taste and flavor.
Set in a medium thick smooth gravy, Chilli Chicken was spicy, tangy and again my complaint was the small serving size.
Chicken was tender and absorbed the flavor of bell peppers, green onion and turned out to be a spicy delight.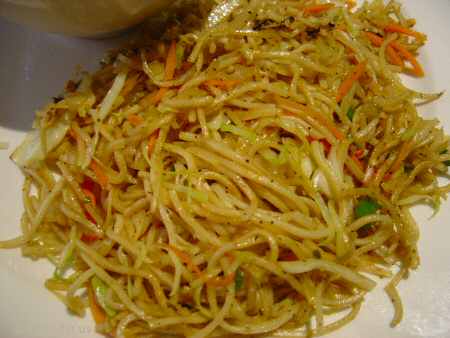 Sometimes in life when it rains it pours.
At Spice Symphony, one spicy delight after another put me in ecstasy.
Hakka Noodles with a sprinkling of grated carrot and green onion were so tasty that I will switch my loyalties to Spice Symphony from
Chinese Mirch
for my future Indian Chinese cravings.
The noodles were cooked to perfection and the moisture level was optimal.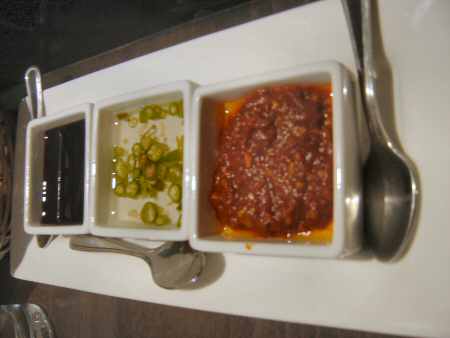 I sprinkled the green chilli in vinegar and Chilli Oil sauces that came with the Hakka Noodles to increase the spice level to suit my spice hardened palate.
Vegetarian Lunch
My Vegetarian lunch option included Lasooni Gobi for appetizer, Baingan Bharwan for entree, Dal Makhani, plain rice and Naan bread.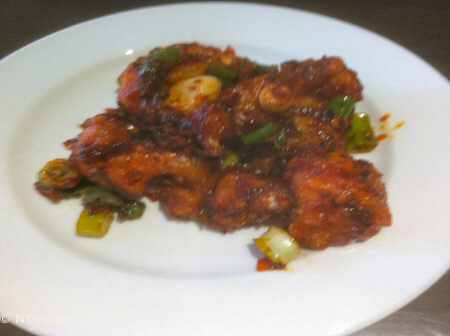 Lasooni Gobi included six pieces of well fried Cauliflower florets set in a spicy soy color sauce with green onion and cut green chilli dressing.
Lasooni Gobi was crisp, tangy and spicy and left me hankering for more. Folks, it was that good.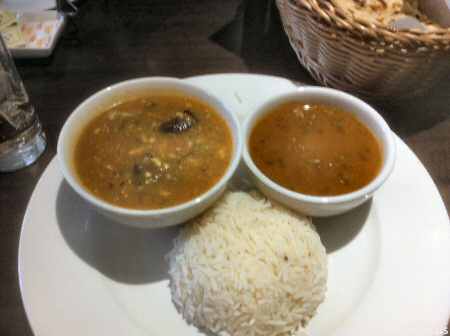 Set in a medium thick brown color gravy, Baingan Bharwan included two baby eggplants.
The baby eggplants were tender and had a fine taste of green chilli, coconut and yogurt. While I enjoyed the Baingan Bharwan, I like it a tad spicier.
Dal Makhani usually gets shortchanged at most NYC Indian restaurants. Most Indian restaurants in NYC serve finely boiled Rajma (red beans) and other lentils as Dal Makhani.
But at Spice Symphony even the humble Dal Makhani got the attention of the kitchen and was cooked to perfection. It was creamy, spicy and one of the most flavorful Dal Makhanis I have tasted in NYC.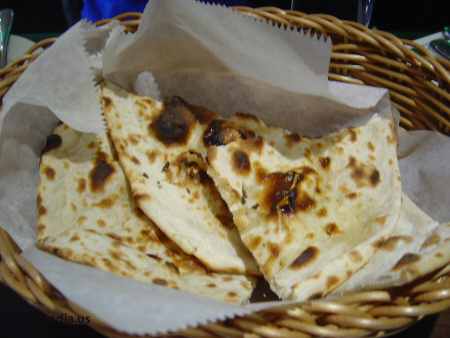 Plain rice was piping hot and had a freshly cooked texture.
Naan bread included four pieces and I had no complaints about it.
Desserts and Hot Beverages
While I enjoyed my lunch specials, it was a shame that they did not include any desserts.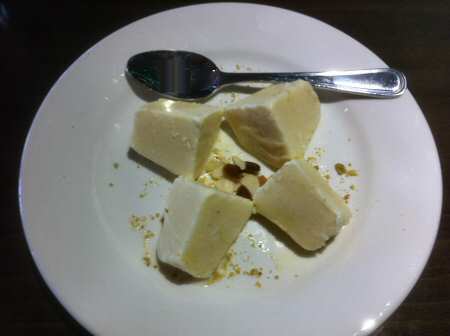 What's an Indian meal without dessert.
So I ordered Malai Kulfi to satisfy my sweet cravings.
Malai Kulfi included four cubes with a sprinkling of pistachio toppings.
Malai Kulfi was flaky as it should be and delicious with right amount of sugar and other ingredients.
I
mucho
relished it
But I can't say the same about my Masala Chai order.
Sure the Masala Chai came piping hot but it smelled and tasted like over-boiled strong tea.
It lacked the aromatic flavor of cinnamon, clove and cardamom spices.
Ambiance & Service
Located on Lexington Ave between 31st St and 32nd St, Spice Symphony occupies the same location as the now closed Yogi's Kitchen and its predecessor
Indo Munch
As you enter, you have to climb down two steps and make a left to enter the rectangular dining hall.
Dining tables are up front with the cash counter close to the entrance, kitchen at the rear and rest rooms on the rear right.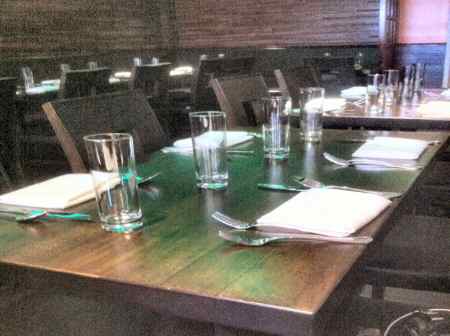 Tables are arranged by the sides of the wall and the restaurant has a clean, pleasing ambiance.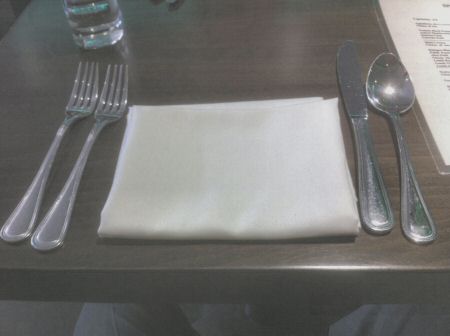 Food ordering and serving was a breeze. No issues. Appetizers were served first followed by the entrees. The
desi
waiter got us Chilli Oil and other sauces without any prompting.
While I enjoyed the food and overall ambiance, I did not like the table hygiene.
The silver was placed directly on the table by the side of the cloth napkin.
Keeping the silver directly on the table is bad table hygiene practice as they would pick up fumes of the table cleaning chemical fluids.
Spice Symphony Rating
Notwithstanding my minor irritation about table hygiene, I would heartily recommend
Spice Symphony
to lovers of Indian-Chinese food in NYC.
The Chicken and vegetarian lunch specials are under $10 and food is spicy and tasty. - ©
NYIndia.us