Punjabi Takda NYC Indian Restaurant
Address:


Punjabi Tadka NYC

688 10th Ave
(at 48th St)
New York, NY 10019


Closed




Closed
Punjabi Tadka NYC Review: Good North Indian Food
We are no strangers to
Punjabi Tadka
on 10th Ave (at 48th St) in NYC.
After all, we'd seen the signboard of Punjabi Tadka several times while getting to Times Square from Lincoln Tunnel.
Since we're always in a rush, we never got a chance to visit this Indian restaurant on 10th Ave.
So the other day we made time to visit Punjabi Tadka.
It was around 10:15AM on a weekend and here we were walking down 10th Ave in a famished state.
Not All You Can Eat Buffet
As we walked into Punjabi Tadka around 10:20AM, the restaurant was empty except for a middle aged guy in a curry-stained white shirt mixing the curries at the buffet station.
The fella greeted us and told us we could choose either the $8 buffet or order
a la carte
menu.
Being cheapo
desis
, we naturally chose the buffet.
Punjabi Tadka's limited buffet comes in two varieties - Vegetarian and Non-Vegetarian.
Important
: It is
not
an all you can eat lunch buffet like most Indian restaurants in NYC serve during lunch.
The serving size is limited and you get three vegetarian curries, naan and rice for vegetarian buffet.
Non-Vegetarian buffet comes with two non-vegetarian curries and one vegetarian curry, naan and rice.
Also, the food items are served in a plate by the waiter which in my opionion is a good thing from a hygiene perspective.
In most Indian restaurants, buffet is a self-serve affair. Since Indians are forever scratching some part of their itchy bodies, you never know where the diners' hands were five minutes earlier.
Here is our take on the Vegetarian and Non-Vegetarian buffets at Punjabi Tadka:
Non- Veg Buffet
I selected the staple Tandoori Chicken, Chicken Curry, Egg Masala and Tadka Dal for curries and Naan for bread for my Non-Veg Buffet.
My Non-Veg Buffet also came with a plate of plain Basmati rice.
Be it Tandoori Chicken or Chicken Curry or Egg Masala or Tadka Dal, one thing that struck my nostrils right away was the aromatic flavor of the food.
Food was all fresh, piping hot and more importantly spicy and tasty.
Most Indian restaurants in NYC dumb down on spices to cater to effete American palates. But not at Punjabi Tadka.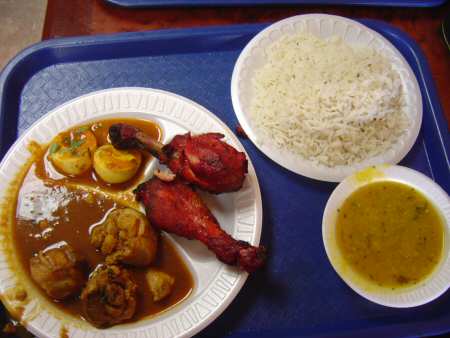 Sure, the Tandoori Chicken had that ugly reddish pink color. Well marinated and roasted in the tandoor, the Tandoori Chicken was flavorful but not exceptional.
Set in a brown color medium thick sauce and with right amount of spices, Chicken Curry was yummy. It was spicy as it should be and Chicken pieces were tender and abosorbed the spices well.
A close competitor to Chikcen Curry and Tandoori Chicken in taste were the Egg Masala and Tadka Dal.
Set in a medium thick spicy delicious gravy, Egg Masala included two cut pieces of a boiled egg with cilantro seasoning.
With a faint garlic flavor and cilantro seasoning, the medium thick Tadka Dal was soothing to my tastebuds. I drank it like soup and enjoyed thoroughly on a chilly winter morning.
Veg Buffet
Malai Kofta, Alu Baingan and Kaal Channa were the curries we selected for our Vegetarian Buffet.
We got Naan bread and plain rice on the side with our curries.
I have had Malai Kofta countless times at other Indian restaurants in NYC. Most of the time, it turned out to be a disappointment because of the soggy kofta ball set in a tasteless gravy. But not at Punjabi Tadka.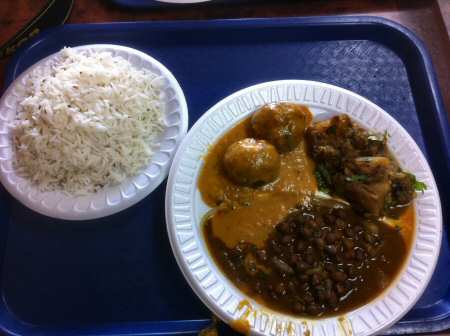 Punjabi Tadka's Malai Kofta included two medium size kofta balls with a firm texture set in a creamy, flavorful, delicious gravy. Needless to say, I enjoyed it thoroughly with both Naan bread and the hot Basmati rice.
At a lot of NYC Indian restaurants, Alu Baingan is an oil slick. Thankfully, Punjabi Tadka did not disappoint with the Alu Baingan curry. It was spicy with the right amount of oil.
Set in a watery brown color gravy, Kaala Channa was another spicy delight.
Naan Bread
Naan bread was big and came piping hot to the table.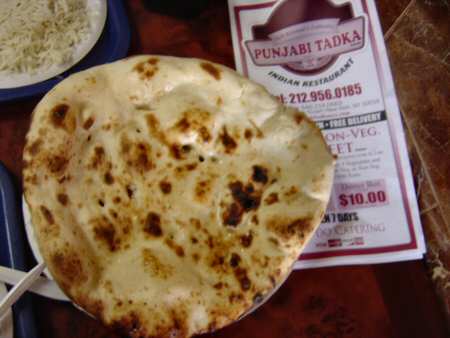 With a dash of butter daubed on top, Punjabi Tadka s Naan bread was good.
Punjabi Tadka Ambiance
A hole in the wall operation, Punjabi Tadka has no ambiance to speak off.
When I walked in around 10:20AM, the restaurant was empty except for a middle aged waiter placing the curries on buffet station.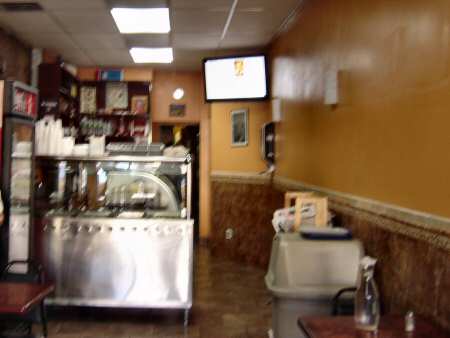 As you enter the rectangle shape dining hall, you have tables upfront, food counter/buffet station in the middle, a big screen TV on the left side wall playing
Son of Sardar
bollywood movie songs, kitchen and toilets at the rear.
The tables were all in a disarray and a little cramped.
Food was served in styrofoam plates accompanied by plastic cutlery and napkins.
Punjabi Tadka toilet and hand washing sink were clean.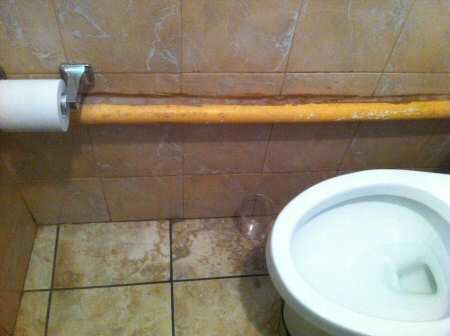 Indians reading this review would be delighted to know that Punjabi Tadka toilet includes a big plastic glass right next to the toilet to wash your bottom. Indians wash their sorry asses with water and do not wipe 'em with paper napkins like they do in America.
Punjabi Tadka Rating
Though Punjabi Tadka serves spicy and tasy Indian food, it is not for everyone.
If you are finiky about ambiance, then it is not for you as Punjabi Tadka has no ambiance to speak off.
Also if you have a large appetite and looking for large quantity of food at cheap prices, Punjabi Tadka is not for you. Punjabi Tadka buffet is limited in serving size and is served in styrofoam plates for $8 during lunch and $10 for dinner.
The
a la carte
menu prices are ridiculously high for a hole in the wall operation.
If you can stomach the absence of ambiance and limited quantities of food, go for Punjabi Takda Lunch Buffet for it serves spicy Indian curries. - ©
NYIndia.us