Gourmet Sweets NYC
Address:


Gourmet Sweets Brooklyn

1107 Coney Island Ave
Brooklyn, NY 11230


Gourmet Sweets Brooklyn: Good Lahore Kulfi and Lahore Nashta
It was Lahore Kulfi that lured us to
Gourmet Sweets
on Coney Island Avenue in Brooklyn, NY.
You see we are ardent lovers of Indian ice creams, especially the Kulfi version.
Impulsively we walked into Gourmet Sweets the other day when we spotted the sign
Lahore Kulfi
.
We're familiar with Mango Kulfi, Malai Kulfi, Tuti Fruiti Kulfi, Pistachio Kulfi etc. but had never heard of Lahore Kulfi before.
Also we wanted to know the difference between Pakistani Lahore Kulfi and the Indian Kulfi ice cream we love so much.
Gourmet Sweets Ambience
As you enter Gourmet Sweets, you have a huge food and sweets counter on the right along with a menu board on the wall.
The dining tables are on the left side.
The restaurant looked clean and we were greeted by a middle aged Pakistani waiter (owner - he mentioned it later) sporting a warm smile.
Since the purpose of our visit was to taste the Lahore Kulfi, we quickly placed our order of Lahore Kulfi.
While placing the order we enquired how Lahore Kulfi is different from the Indian Kulfi.
The middle aged waiter responded saying that he never had Indian Kulfi and does not know the difference. He mentioned that Lahore Kulfi is a popular street snack in the city of Lahore and his Kulfi is prepared in house.
Lahore Kulfi
Our order of Lahore Kulfi came on a stick. The Kulfi stick was neatly wrapped in a wrapping paper and served in a plate.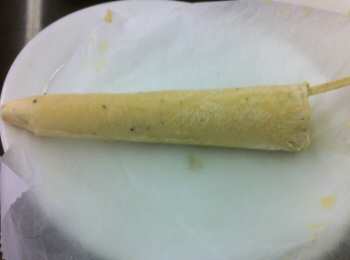 The elderly waiter who served the Kulfi explained to us that Lahore Kulfi includes Almonds, Pistachio and Green Cardamom.
Lahore Kulfi Vs Indian Kulfi
As far as taste and texture, Lahore Kulfi is no different from the Indian Kulfi.
The only thing is Indian Kulfi comes both on a stick as well as in the cubed form. Kulfi sticks are usually available in Indian grocery stores while Indian restaurants mostly serve Kulfi in cubed form.
Lahore Kulfi was firm with slightly rough texture and was delicious. We'd have been happier if some more sugar had been added to our Kulfi.
Lahore Nashta
As we were finishing our Kulfis and readying to pay the bill, the exuberant Pakistani middle aged waiter/owner spun a good sales pitch and persuaded us to taste Lahore Nashta and Tea.
Since we live to eat, we easily succumbed to his persuasion.
Lahore Nashta ($5) includes two hot Pooris served with Channa Masala and Halwa.
Lahore Nashta is similar to the Indian Channa Batura with added attraction of Halwa.
We chose Kashmir Tea to go with the Lahore Nashta.
| | |
| --- | --- |
| Channa Masala, Poori | Halwa |
Two hot Pooris and Channa Masala landed on our table in about 10 minutes followed by Halwa and Kashmir Tea.
Here's our take on Lahore Nashta:
Poori - Pooris were big, soft, piping hot and we enjoyed them thoroughly. The only difference between the Indian Channa Batura Poori and Lahore Nashta Poori is that the latter was not puffed up when it came to the table.
Channa Masala - Channa Masala was medium thick and hot (temperature wise). Channa was well cooked with a subtle masala flavor and tasted yummy.
Halwa - But we can't say the same about Halwa. While Halwa seemed freshly prepared it did not endear itself to our taste buds. It was slightly low on Sugar and had an unwelcome smell and taste of cheap cooking oil.
Kashmir Tea
Kashmir Tea came piping hot to the table. It looked and tasted like the hot Rose Milk that we are used to back home in India.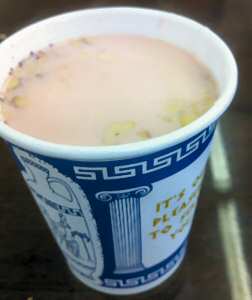 Our total bill for two Lahore Kulfis, One order of Lahore Nashta and One Kashmir Tea came to $12.00.
We paid our bill with cash and went back to exploring the Pakistani enclave on Coney Island Avenue with hot Kashmir Tea in our hand.
No, we did not get any receipt for our cash payment.
We were also uncomfortable seeing the owner yelling at one of his workers (the guy mopping the floor) in front of us and threatening to fire him.
The restroom downstairs was clean.
Gourmet Sweets Rating
All in all we enjoyed the Lahore Kulfi, Kashmir Tea and Lahore Nashta.
We plan to return to Gourmet Sweets to try its other sweets. But will surely avoid Halwa. - - © NYIndia.us