Kashmir Cuisine of Pakistan NYC
Address:


Kashmir Cuisine of Pakistan

478 9th Ave
(@ 37th St)
New York, NY 10018


Kashmir Cuisine of Pakistan NYC: Spiceless Veg Curries
Having dined at
Bukhari, Gourmet Sweets
, and
Mithaas
on Coney Island Ave,
Chandni
on W. 29th St in NYC and
Gourmet Sweets
in Jackson Heights, I am no stranger to Pakistani restaurants in NYC.
My experience has been that food at Pakistani restaurants tends to be more spicy and flavorful compared to what's peddled by NYC Indian restaurants.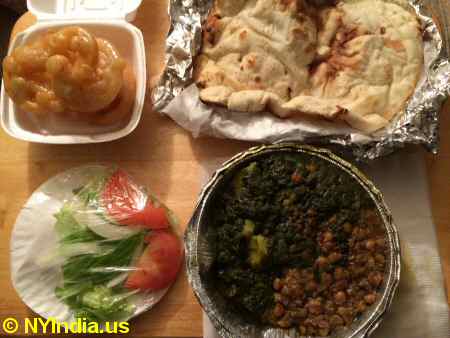 So with much anticipation, I ventured into
Kashmir Cuisine of Pakistan NYC
.
My Kashmir Takeout
Located at the intersection of 9th Ave and W37th St,
Kashmir Cuisine of Pakistan
is a no frills restaurant.
As I walked in around 5PM, the restaurant had about 10 diners digging into their Kababs and Chicken.
Since I was not in a meaty-mood, I asked for a takeout of a Vegetable Platter ($7.99) and three pieces of Jalebi for dessert.
Vegetable Platter at Kashmir Cuisine of Pakistan comes with a choice of two vegetable curries, and either Naan bread or plain rice.
I picked Channa Masala and Alu Palak for curries from the food counter and Naan bread.
My takeout vegetable platter was ready in about 10 minutes as the guy at the counter heated up the curries in a microwave and packed it.
Here is my take on Vegetable Platter starting with the Channa Masala:
Channa Masala
To describe the Channa Masala as terrible would be an understatement.
Kashmir Cuisine of Pakistan ripped me off by offering me just finely boiled Chickpeas as Channa Masala.
Devoid of any taste, spice heat or flavor, Channa Masala brought tears in my eyes.
Surely, it must take special effort to mess up a simple curry like Channa Masala.
Alu Palak
Mighty disappointed with Channa Masala, I moved on to Alu Palak.
Alu Palak included four small pieces of Potato and a big chunk of finely cooked spinach.
The good thing about Alu Palak was it did not pack the raw flavor of Spinach seen at a lot of NYC Indian restaurants.
The bad thing was that it turned out to be another spiceless travesty. With a mild green chilly flavor, Alu Palak was just a tad better than Channa Masala on the heat level.
Naan Bread
Naan bread was big, soft and tasty, No issues at all.
But in the absence of palatable entrees, I could not enjoy the Naan bread.
Raitha and Salad
My Vegetable Platter came with a small serving of Cucumber-Mint Raitha and Lettuce, sliced Onion and Tomato Salad.
Raitha was soothing and tasty as it should be and Salad was alright.
Jalebi
While I did not relish the Vegetable Platter, Jalebi turned out to good.
Jalebi was crisp and yet packed enough sugar syrup moisture.
It was fresh and to my great delight did not include the ugly yellow or red food color that a lot of Indian restaurants add to Jalebi.
Ambiance and Service
Kashmir Cuisine of Pakistan has the look and feel of a dump.
Some tables had not been cleared.
As you enter, you have tables upfront, food and cash counter at the rear.
You pick the curries, pay up and wait for your food.
Food is served quickly as they basically reheat your curries from the food counter in a microwave.
Curries, Salad, Naan bread and Jalebi were neatly packed wrapped with thin plastic cover to prevent any leakage.
Also my takeout order came with ten napkins and plastic fork and spoon.
During my visit, I found several NYC parking meter guys entering the place to perform
Namaaz
(prayer) in a small alcove at the back.
Kashmir Cuisine of Pakistan Rating
If you love spicy Indian food, I recommend you stay away from Kashmir Cuisine of Pakistan.
My two vegetarian curries turned out to be bland, tasteless disasters.
However, if you have a sweet tooth like me, I suggest you give their Jalebi a try.
The next time I'm in the area, I am definitely going to pick up some more Jalebi from
Kashmir Cuisine of Pakistan
again. - ©
NYIndia.us