Bukhari Restaurant Brooklyn
Address:


Bukhari Brooklyn

1095 Coney Island Ave
Brooklyn, NY 11230
Hours: Open 24 hrs daily


Closed




Closed
Bukhari Brooklyn: Spicy Delight on Coney Island Ave
The other day we were walking down Foster Ave in Brooklyn near Newkirk plaza subway and spotted what looked like South Asian shop boards.
On an impulse we turned left on Coney Island Avenue and
voila
found a Pakistani enclave consisting of Pak Video stores displaying Madhavan and Genelia's Jodi Breakers and Tere Naal Love Ho Gaya posters, grocery stores, restaurants, sweets stores, jewellers and fashion stores.
As we walked toward
Ave H
we spotted Bukhari Restaurant - Pakistani, Bangladeshi and Indian Cuisine - bustling with activity.
We were intrigued.
You see we had never dined at a Pakistani restaurant before.
This was our first visit and we were uncertain whether vegetarian items would be available.
Also, Bukhari looked like a dump from outside and is basically a hole in the wall operation.
But still we marched ahead into Bukhari to see what's available and to taste some Pakistani food.
Ambience
When we walked into Bukhari around 8:00 p.m. on a weekday, the restaurant had about eight diners.
There were another four people waiting in the queue to place their orders.
As you enter, there are tables with a pink color table cloth, food counter at the far end and a sweets counter to the left.
Overall the restaurant did not look very clean - the tables and floor were a little dirty.
Two Pakistani waiters were busy attending to the customers.
No Take Out Menu
We waited for our turn and asked for a takeout menu so that we could pick some vegetarian items.
The waiter said there is no take out menu and asked us to select vegetarian food from the food counter.
We were a little taken aback at the absence of a menu but the waiter pointed to Lentils and Kadi Pakora in the food counter.
In short order, we asked for Kadi Pakora, two Rotis, One Samosa and One Alu Tikki for takeout and moved toward the Sweets counter to ogle at the attractive offerings on display.
Sweets at Bukhari included the familiar Jalebi, Ladu and Bengali Milk Sweets for $5.00 per pound.
No we did not order any sweets leaving it for another day.
As our Rotis were getting ready we had a change of mind and converted our takeout into a dine-in order.
We selected a table near the door as the others were not cleared of the dirty plates. The table with a pink table cloth had a long hair on it which we pushed to the floor with a paper napkin.
BTW, we are not the only ones unhappy with the dirty tables. There was another family (with a baby) that complained to the waiter about the dirty table. Soon our Kadi Pakora and Roti arrived followed by Samosa, Alu Tikki, Raita and Salad.
Spicy Alu Tikki and Fine Samsoa
Alu Tikki and Samosa came hot to the table.
With a firm texture, Bukhari's Alu Tikki was spicy and flavorful. Truth be said, it's been a long while since we had such a tasty Alu Tikki. A lot of Indian restaurants that we've visited in the U.S. make awful Alu Tikki.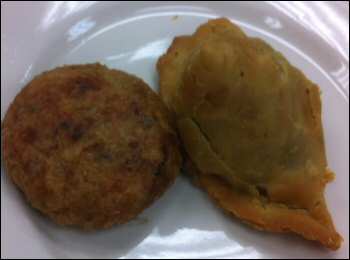 Samosa was well cooked, soft in the centre and slightly crispy on the edges.
The potato filling in the Samosa was tasty. No complaints, folks.
Yummy Kadi Pakora
Kadi Pakora came piping hot to the table and included three big pakoras.
Kadi Pakora came in a spicy, medium thick gravy as it should. And it had the nice Kadi flavor just like the Indian version we so love.
Besides the Pakoras, Kadi included some onion slices.
| | |
| --- | --- |
| Spicy Kadi Pakora | Bukhari Roti |
We thoroughly enjoyed the Kadi Pakora with the two Rotis.
No, Kadi Pakora did not come with any white rice.
Rotis
Our order of two Rotis came on a wrapping paper placed in a plastic basket.
The plastic basket was dirty at the edges.
Rotis were big, soft, piping hot and had a freshly prepared texture.
We enjoyed the Rotis thoroughly with our Kadi Pakora.
Raita and Salad
Raita was at room temperature and medium thick.
With a faint flavor of Mint, Bukhari's Raita had a soothing affect on our taste buds especially after eating the spicy Kadi Pakora and Alu Tikki.
| | |
| --- | --- |
| Delicious Raita | Flavorful Salad |
We are not big fans of Salad served at South Asian restaurants. Usually Salad gets a cavalier treatment and includes cold lettuce leaves and Cucumber slices without any dressing.
But Bukhari's Salad was different, to our pleasant surprise. In addition to the standard lettuce, it also had some boiled Chickpeas, sliced Carrots, Tomatoes and more importantly some flavorful oil seasoning.
Fine Kashmir Tea
We topped off our fine meal at Bukhari with an order of Kashmir Tea.
As we were gorging on the Kadi Pakora, the waiter who took our order came by to enquire if everything was alright.
It was at this juncture we suddenly developed a craving for Masala Chai and we enquired whether they have Masala Tea.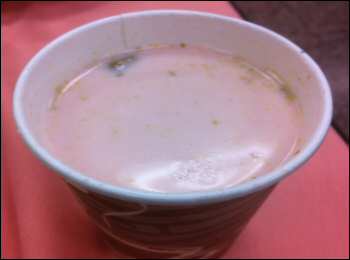 The waiter listed out the beverages available and we became curious when he dropped the name
Kashmir Tea
.
Within five minutes of ordering, our Kashmir Tea landed on the table.
Kashmir Tea was light pinkish in color with some dry nuts floating on top and reminded us of hot rose milk that we used to drink back home in India.
One sip confirmed our hunch and indeed it tasted like hot rose milk.
Excellent Value for your Bucks
Soon it was time to get our check and we went to the counter to find out the total cost of our food. We repeated the items we ordered - 1 Kadi Pakora, 2 Rotis, 1 Samosa, 1 Alu Tikki, 2 Kashmir Tea - and our total bill came to $10.00.
Yes, we are not kidding. We paid a mere $10 for a sumptuous, spicy meal at Bukhari restaurant on Coney Island Ave in Brooklyn.
Bukhari Coney Island Avenue Rating
Though Bukhari serves yummy sumptuous meals at Cheap Prices, it is not for every one.
Avoid Bukhari if you are finicky about clean ambience and looking to be pampered by the waitstaff.
Also avoid Bukhari, if you have an effete American palate and can't take the heat from spices. For it serves very spicy food.
As for us we can't wait to return to Bukhari to taste its other Vegetarian curries and, of course, to savor the fine Kashmir Tea again. - © NYIndia.us