Joy Curry & Tandoor NYC
Address:


Joy Curry & Tandoor Midtown

32 W 39th St
(Bet 5th & 6th Ave)
New York, NY 10018


Joy Curry & Tandoor NYC Restaurant: Good Kebabs, Awful Veg. Curry
We wouldn't have discovered the new branch of
Joy Curry & Tandoor
on the West Side of Manhattan at 32 W.39th St were it not for a lady on 6th Ave thrusting a flyer into our hands the other day.
Given our insatiable lust for Indian food, we quickly marched toward Joy Curry for lunch.
Unlike a lot of Indian restaurants in NYC, Joy Curry & Tandoor steers clear of offering an
All-You-Can-Eat-Buffet
.
Instead, Joy offers a variety of platters starting at $7.95.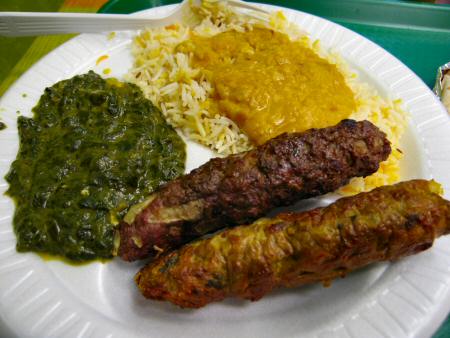 During our visit, there were few diners or takeout customers.
Presumably, word has yet to spread of the restaurant's existence.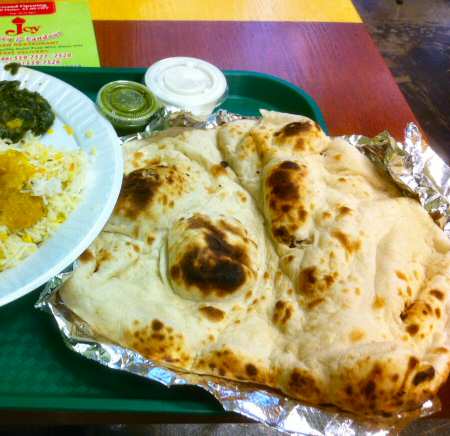 After scanning the menu on the wall, we asked for a platter with Kebab and one Vegetarian item (Spinach Paneer).
There was some confusion on the price of our platter with the guy at the counter insisting that Kebab dishes were $10.95 and above. That made no sense because the menu on the wall clearly says Chicken Kebab plus Vegetable platter is $9.
A second bloke at the counter realized the error and made amends by offering both Chicken and Lamb Kebabs along with Naan bread in our platter. Nice gesture.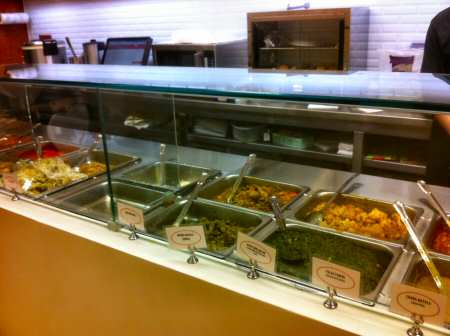 It took about five minutes for the platter to land on our table.
Naan bread was big and overall our platter had enough food for a filling lunch.
Besides the Naan, there was a mound of White Rice with enough Dal on it, two Kebabs, Palak Paneer, Green Chutney and Raita.
Dal
Alas, the Dal in our platter was hopeless, like at most Indian restaurants.
The issue was lack of seasoning, a problem bedevilling this commonplace South Asian item at most Indian restaurants in NYC and New Jersey.
We find it infuriating that most Indian restaurants give short shrift to Dal. Believe me, it's not that hard to rustle up a good Dal.
Palak Paneer too turned out to be a disappointing gooey mess with the spinach possessing a raw flavor. Also, it was way too bland to appeal to our spice hardened tastebuds.
The Green Chutney was spicy and packed a good punch. But the Raita wasn't much to linger on.
Thank God for the Kebabs
The two Kebabs saved the day and prevented our Joy Curry lunch from turning into a complete disaster.
Boy, were they delicious!
Chicken Kebab was a bit more flavorful than the Lamb Kebab, thanks to the richer mix of spices in the former.
Naan bread was big but nothing to write home about. If only it were daubed with a lick of butter, boy, it'd have tasted much better.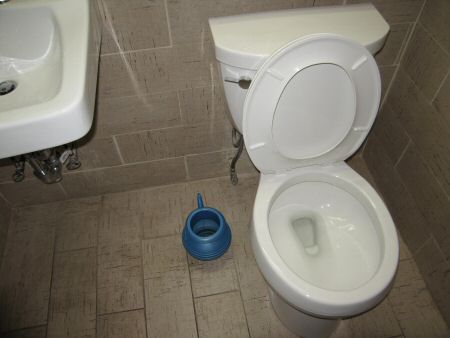 We were amused to note that Joy's restroom sported a big blue water mug on the floor.
Not surprising since South Asians are averse to using toilet paper to wipe their brown bottoms.
Nothing gives greater joy to an Indian than the feel of good ol' water running down his bare bottom. :)
Joy Curry and Tandoor NYC Rating
The Kebabs are a show-stealer but Dal and Palak Paneer were duds.
If we return to
Joy Curry
, surely the Kebabs will be our priority!
By the way, there's adequate seating for those who prefer to dine in.
With the Indian buffet joint
Curry Dream
just a few doors away, it'll be interesting to see if the block can sustain two Indian restaurants. - ©
NYIndia.us