Punjabi Grocery & Deli NYC
Address:


Punjabi Grocery & Deli

114 E. 1st St
(East Village)
New York, NY 10003


Punjabi Grocery & Deli NYC Review: Decent Food @ Cheap Prices
A hole in the wall East Village restaurant,
Punjabi Grocery and Deli's
claim to fame is its fairly decent Indian vegetarian food at cheap prices.
Located on E.1st St (between 1St Ave and Ave. A) and just a few steps from Peretz Square Park, Punjabi Grocery is a 24-hours Indian restaurant that offers Dal, Roti, Rice, a bunch of curries, Samosas, Pakoras, Tea etc at ridiculous prices.
We dropped by the other day after taking the F train to 2nd Avenue.
As you enter the Punjabi Grocery store, to your left there's a huge glass case where the pre-cooked food is on display.
Make your selection and the Sikh owner Surinder will heat it up for you.
There's a cramped aisle in front of the glass case and a long counter on the right where you can stand and eat.
There is also a hand written note on the wall by the aisle requesting the diners to trash the finished bowls and plates in the garbage can outside.
But you'd be better off taking the food with you to nearby Peretz Square Park or your place (if you live nearby).
Punjabi Grocery & Deli - Our Order
We ordered two Combos ($3.50 each), a Samosa ($1.25) and two Teas.
Our total bill for two combos, two Teas and a Samosa came to a measly $10.00.
No receipt was provided to us.
We didn't see the Punjabi Deli giving receipts to any of the other customers either.
Surinder heated up our choices in the microwave behind him and handed them to us in plastic bowls.
But he did not do a thorough job because the food was not heated uniformly.
Despite the uneven heating, the food still tasted alright.
Here's our take on the Punjabi Grocery & Deli food that we ordered.
Samosa
Samosa was evenly fried with slighly soft texture in the middle and crisp edges.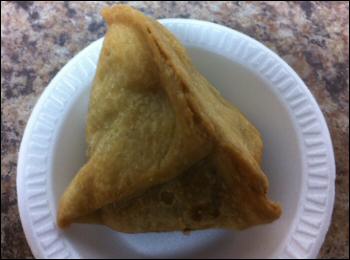 Potato curry filling inside was tasty. No issues folks.
Samosa did not come with any sides like Green Chutney or Tamarind Sauce. Toward the end of our meal, we noticed some containers of Red Sauce (hot) and Tamarind Sauce near the cash register.
Two Vegetarian Combos
The first combo included Simla Alu and Malai Kofta.
For our second combo, we picked Lentils and Black Channa.
Both combos came with rice.
The curries were served on top of the rice in a bowl.
The serving size of Simla Alu and Lentils was slightly larger than the Malai Kofta and Black Channa.
Set in a medium thick gravy, Simla Alu was spicy the way it ought to be.
Malai Kofta included two Kofta balls and a little gravy.
| | |
| --- | --- |
| Simla Alu and Malai Kofta on Rice | Lentils and Black Channa on Rice |
Though Malai Kofta was not that creamy we still enjoyed it as the Kofta balls were tasty, firm and flavorful.
Set in a medium thick gravy, Lentils with right proportion of seasoning was soothing to our tastebuds.
Black Channa was slightly watery and flavorful.
It was also refreshing to eat Black Channa as most Indian restaurants in NYC usually offer Channa Masala prepared with Chick Peas or White Channa.
Masala Chai
We topped off our meal with an order of Chai.
Chai came piping hot in a small styrofoam cup.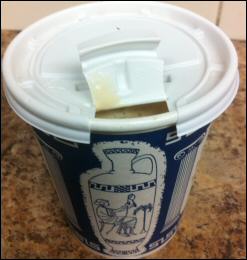 While the Chai/Tea was fine, we were a little disappointed to see the Tetley Tea Bag in our cup as against a freshly prepared Chai with Tea Leaves and Milk.
Punjabi Grocery & Deli Rating - Go for it
Notwithstanding our disappointment with Tea and the dump-like atmosphere, we recommend Punjabi Grocery & Deli in downtown Manhattan for its decent Indian curries at cheap prices.
If you're strapped for cash or prefer to eat in an all-vegetarian Indian place, then Punjabi Grocery and Deli would suit you fine as long as you don't mind the dump-like atmosphere. - © NYIndia.us