Nanking NYC
Address:


Nanking

1634 Broadway
(Btwn W50th & 51st St)
New York, NY 10019


Closed




Closed
Nanking NYC: Below Average Indian-Chinese Food
It's no secret that we love Indian food.
While we are known to go delirious over Garlic Naan, Tandoori Chicken, Chicken Tikka Masala, Masala Dosa, Idly and Pongal, we are equally crazy about Indian-Chinese food.
At the mere mention of items like Hakka Chilli Chicken, Gobi Manchurian, Chicken Manchurian or Vegetable Manchurian, we start salivating.
It was this insane love for Indian-Chinese food that led us to
Nanking
at 1634 Broadway in NYC the other day.
Nanking is different from other Indian restaurants. It does not offer one of those all you can eat lunch buffets like a lot of Indian restaurants in NYC do.
Instead it offers Indian-Chinese and Thai Lunch Specials for $10 between 11:00AM-3:00PM weekdays. Regular
a la
carte menu is offered after 3:00 pm on weekdays and whole day during weekends.
When we walked into Nanking on Broadway between W50th and 51st Streets in NYC the other day around 2:00 pm, the restaurant was sparsely crowded.
We were warmly greeted by a waiter which was a welcome relief. You see waitstaff at Indian restaurants usually wear a mournful mien or display rude behavior, especially to
desi
customers. It was refreshing to see a smiling waiter in an Indian restaurant.
With heightened expectations of a nice Indian Chinese meal we quickly placed our order little realizing the disaster ahead of us.
Since it was lunch time, we ordered from the lunch specials menu. Our order included Hot and Sour Chicken Soup, Hot and Sour Vegetable Soup, Hakka Chilli Chicken, Vegetable Manchurian and Jasmine Rice.
Our soup came first followed by Hakka Chilli Chicken and Vegetable Manchurian along with Jasmin Rice.
Nanking NYC - Hot and Sour Soup
Hot and Sour Chicken and Vegetable Soups came piping hot to the table. It included Mushrooms, Tofu and shredded carrot.
The difference between Hot and Sour Chicken Soup and Hot and Sour Vegetable Soup was just the Chicken pieces in the former.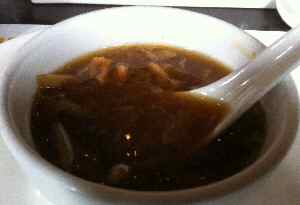 Overall the hot soups were refreshing especially considering the weather is turning chilly in NYC. It whetted our appetites for the entrees.
Nanking Hakka Chilli Chicken - An Impostor
So when our Hakka Chilli Chicken arrived we quickly pounced on it hoping for a soup like experience.
Alas, it was a big disappointment.
Chicken pieces in Hakka Chilli Chicken were tender. But that's all we can say in its favor.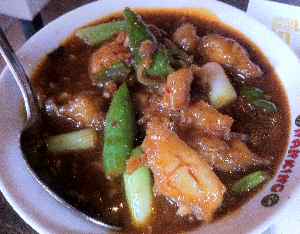 You see Hakka Chilli Chicken was not in the least bit flavorful or spicy.
It had just a few pieces of bell pepper and green onion. It was like eating tender boiled cubes of chicken soaked in soy sauce colored thin gravy.
We did not enjoy it one bit as going by the name we expected a real spicy and flavorful Hakka Chilli Chicken.
In our dictionary, if Hakka Chilli Chicken is not spicy then it ain't the real deal.
What Nanking served us in the name of Hakka Chilli Chicken was a travesty.
Burnt Vegetable Manchurian
Consoling our disappointed taste buds, we moved on to Vegetable Manchurian only to quickly retreat in horror.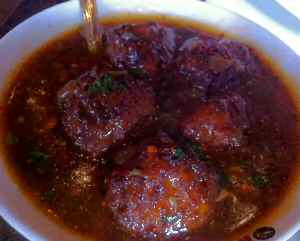 Our disappointment soon turned into a distress with Vegetable Manchurian.
You see one spoon of the sauce with a small bit of Vegetable Manchurian gave us a nauseating feeling.
There were too many issues with the Nanking's Vegetable Manchurian.
First, the Vegetable Manchurian balls failed at a basic level. The outer covering was burned badly. Any self-respecting kitchen would have trashed it.
Second, the Manchurian sauce too had a strong burnt flavor
Third, Manchurian sauce was not least bit hot where spice level is concerned.
Nanking's menu describes Vegetable Manchurian as "golden fried battered vegetable in hot manchurian sauce".
Well, hot (as in spicy heat) it certainly was not.
Jasmin Rice that came with our Hakka Chilli Chicken and Vegetable Manchurian was alright though the serving size was small.
Poor Service
Used soup bowls were removed, water glasses filled and food served promptly.
But Nanking's service like its food failed at a fundamental level of delivering what we ordered.
You see, while placing the order we clearly requested the lean, short, dark complexioned waitress to make our Vegetable Manchurian spicy. But that request fell on deaf ears and what we got was anything but spicy. Worse, it was burned.
As if the burned Manchurian was not bad enough, the Jasmin Rice bowl that came with it was dirty with leftovers of a previous diner sticking near the outside bottom of the bowl.
Also, the waitstaff was in a tearing hurry to get our table ready for the next customer while we were still waiting for the bill to arrive. We wondered the reason for such a rush to wipe the table and replace used papermats with news ones as there were several empty clean tables.
Nanking NYC - Stay Away
While a pleasant greeting and quick seating of diners are important, they do not in any way compensate for serving burned and mediocre Indian Chinese food.
Folks, Nanking NYC is a below average Indian Chinese restaurant with a bunch of jokers manning its kitchen. Nanking most certainly does not deserve your business.
Midtown Manhattan offers plenty of eating choices, including Indian restaurants and food carts, that overall serve far better food than these Nanking buffoons at similar prices or lower.
Considering
our overall dissatisfying experience at Nanking NYC
, we are unlikely to return to this place any time soon. - © NYIndia.us
Other NYC Indian Chinese Restaurants
Chinese Mirch - Indian Chinese Delight in NYC
Royal Tangra Masala NYC - Awesome Food; Excellent Rasmalai & Good Service
Tangra Masala NYC - Disappointing Indian Chinese Food