Bengal Tiger NYC Indian Restaurant
Address:


Bengal Tiger

58 W 56th St
(Bet 5th Ave & 6th Ave)
New York, NY 10019


Bengal Tiger NYC: Awful Chicken Curry
Indian restaurants in Manhattan like
Bengal Tiger
that refuse to serve spicy curries are a disgrace and don't deserve your business.
I was returning from the Roosevelt Island Tram Station on 2nd Avenue to Midtown Manhattan when my stomach started bellowing.
My iPhone 5s alerted me to $8 lunch specials at Bengal Tiger, located on W 56th St (between 5th Ave and 6th Ave).
So off I headed to Bengal Tiger, a new Indian restaurant.
$8 Lunch Pack - Awful
Unlike a lot of NYC Indian restaurants, Bengal Tiger does not offer lunch buffet.
Instead it offers Lunch and Dinner Packs for $8 and $10 respectively.
I placed one order of Lunch Pack for dine-in and Vegetable Korma ($10) for take out.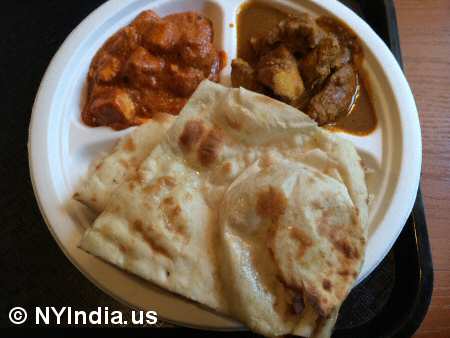 Lunch Pack comes with a choice of brown or white rice, naan bread and two entrees (veg, chicken or lamb or a combination).
I chose Chicken Curry and Paneer Makhani for entrees and brown rice.
My $8 lunch pack was served at the table in a styrofoam plate in about 10 minutes by a smiling waitress.
Chicken Curry
Yeeks! This is a godawful Chicken Curry, one of the worst I've had in recent months.
There were multiple issues with the Chicken Curry - the chicken was way too tough, the gravy was not in the least spicy and it seemed as if the chicken pieces had been flung into the gravy moments earlier and rushed out! I was hit with a severe case of buyers remorse.
By my reckoning, if an Indian restaurant can't get the simple Chicken Curry right it ought to pull down the shutters.
Cursing the Bengal Tiger kitchen, I moved on to my second entree Paneer Makhani.
Set in a medium thick red color gravy, Bengal Tiger's Paneer Makhani was not as bad as the Chicken Curry.
Although it had some flavor, it was nothing to write home about!
Brown Rice and Naan Bread
Brown rice was hot and included Jeera and curry leaves seasoning. But the quality of rice was poor.
One of the slices of naan bread was alright. It came with a dash of butter on top while the other one was dry.
$10 Vegetable Korma - Bland
As I was finishing up my lunch, the Vegetable Korma take-out was ready.
Vegetable Korma came with a small serving of brown rice.
It was neatly packed in a brown bag and included two sets of plastic forks and knives.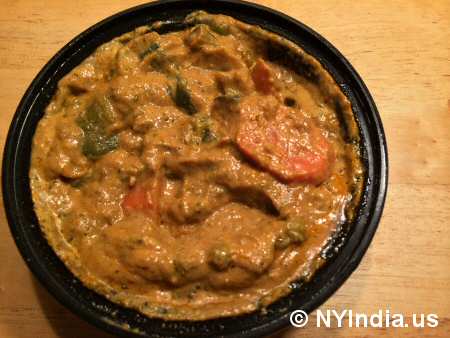 Although I had specified thrice that my Vegetable Korma should be spicy, it was anything but.
I was disappointed that my repeated requests to waitress to make the Vegetable Korma hot and spicy had fallen on deaf ears.
What I got for $10 was not Vegetable Korma but an atrocity.
The Vegetable Korma was so bland that I'm convinced Bengal Tiger's kitchen is unschooled in cooking Indian curries. Or they have utter contempt for requests of paying customers.
It included Broccoli, Turnip, Zucchini and Green Peas but I felt as if I were eating a bland, smooth paste of nuts with some vegetables thrown in.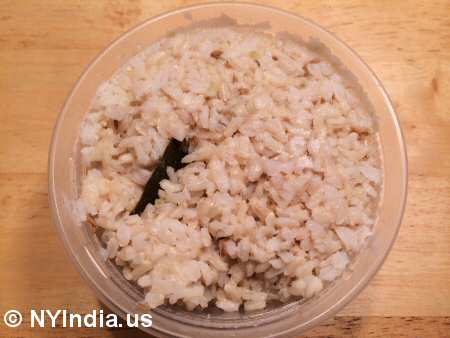 Also, for $10 the serving size of Vegetable Korma was small.
Brown rice was of poor quality and came seasoned with jeera and curry leaves.
Ambiance and Service
Bengal Tiger is on the second floor at 58 W.56th St and has 12 tables.
Tables and restroom (tiny, even by Manhattan standards) were clean.
I found the staff polite and pleasing.
Bengal Tiger NYC Rating
How Bengal Tiger hopes to stay in business with such mediocre food is known only to God!
Needless to say, I will not be stepping into
Bengal Tiger
any time soon. - ©
NYIndia.us