Dosateria NYC Indian Restaurant
Address:


Dosateria @ Whole Foods Tribeca

270 Greenwich St
New York, NY 10007


Closed




Closed
Dosateria Tribeca: Awful Utappam, Good Dosa
My visit to the newly opened
Dosateria
inside
Whole Foods Market
on Greenwich St in Tribeca NYC should surprise no one since few food items get me so excited as the
Dosa
and its obese cousin
Utappam
.
After all, I hail from South India where Dosa and Utappam are breakfast staples.
Just in case you didn't know, Dosateria is a partnership between
Cafe Spice
and Whole Foods. I am no stranger to Cafe Spice restaurants. On several occasions, I have graced the now closed Cafe Spice outposts on W 56th St in Midtown Manhattan, University Place in Downtown NYC, South 2nd St in Philadelphia and Washington Blvd in Jersey City. Cafe Spice restaurants started with a bang serving solid Indian food and divine Kulfi but closed with a whimper as the quality of food and service degraded.
I was curious to see if Dosateria would restore some of Cafe Spice's old glory.
Dosateria Ambience
When I walked into Dosateria around 9:30AM, the place was quiet with just one irritated diner enquiring loudly about the long delay in getting his Dosa. As you enter Whole Foods Market from Greenwich St, Dosateria is near the aisle stocked with Indian and international food items. Dosateria is a circular area with a counter and stools where you can sit and eat your dosa. Sitting on the stool, you can watch your Dosa being prepared. There is a menu posted on the wall right above the counter.
Our Dosateria Order
As I was checking the menu, an unsmiling
desi
waitress walked up with a white and yellow colored order forms and enquired whether I was ready to order. I eagerly asked for two Signature Dosas -
Bollywood Chicken
and
The Classic Dosa
only to be rebuffed. The waitress declared:
"They are not available now"
So I quickly changed my order to
Om Shanti n' Egg
and
All The Raj
only to be rebuffed again. It was only after my second attempt to order a Signature Dosa that the waitress indifferently mentioned that only Breakfast Dosa and Breakfast Utappam are available. The Signature and Make Your Own Dosa menu is available only after 11AM. God, if only a limited menu is available for breakfast what prevents Dosateria from clearly specifying it on the menu posted on the wall. Also, the waitress could have informed me at the outset instead of wasting my time. Since it was a
Hobson's Choice
, I asked for the Breakfast Dosa ($6.95) and Breakfast Utappam ($6.95). After writing down my two 'choices,' the waitress gave me a White slip and asked me to take it to the cash counter and pay there. I then waited on the stools near the dosa grill.
Dosateria took about 20 minutes to deliver the Dosa and Utappam. Breakfast Dosa arrived first followed a few minutes later by the Utappam They arrived on a flimsy sheet in a plastic tray. The trays did not include any spoons or forks. While Dosas and Utappams are meant to be eaten with your hands you do need a spoon for the Chutneys especially if they are are a little watery like the ones served by Dosateria. As I was looking around for plasticware, the Dosa cook lethargically pointed toward a plastic spoons holder in a corner.
No Sambar with Breakfast Dosa
The breakfast items come with a choice of Chutney. I opted for green chilli coconut chutney for the Breakfast Dosa and tomato mustard chutney for Utappam. In a mighty big disappointment, Sambar did not come with the Dosa or the Utappam. Yes, you are reading correctly. Dosateria at Whole Foods Market in Tribeca NYC does
not
serve Sambar with Breakfast Dosa or Utappam. They come only with chutney.
Baffled by the absence of Sambar that I'm so used to having with the Dosa, I headed to the counter to order Sambar separately. When I asked the cashier about ordering Sambar, he was baffled and directed me to a kitchen assistant. The assistant was also clueless about the price and availablility of Sambar. He went off to check with the Dosa cook and returned to inform me that Sambar was not available. It was only as I was taking my last bite of the Dosa that the assistant informed me that the Sambar was ready. But it was too late and I politely declined.
Awful Utappam
Doasteria's Breakfast Utappam brought tears to my eyes. It was "Awful" and nearly ruined my morning. There were multiple problems with Doasteria's Breakfast Utappam: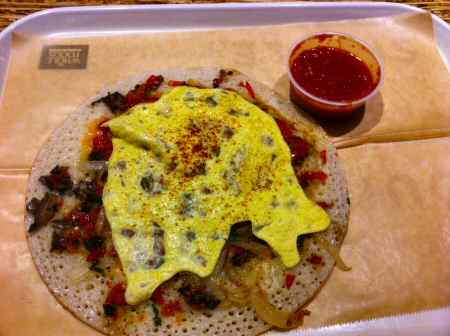 First, the Breakfast Utappam failed at a fundamental level - it was sweetish rather than tangy, spicy, sour taste that you get when you eat an authentic Utappam.
Second, it looked like a Dosa with toppings rather than a Utappam. As anyone familiar with Utappam knows, it comes with vegetables cooked into it and is roasted / grilled on both sides. Vegetables are cooked along with the Utappam on the pan rather than flung on top like toppings.
Third, it was too thin to be called a Utappam, which is usually thick in texture. Hey, the thickness of my Dosa and Utappam was more or less the same.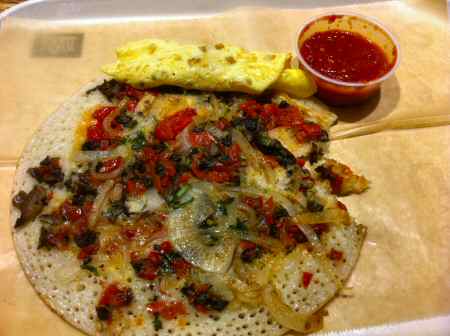 Fourth, Utappam is usually prepared with fermented Dosa flour (along with green chilli, onion, cilantro and any other vegetables you wish to add) giving it a slightly sour taste. Alas, at Dosateria I never got the taste of the traditional Utappam I've been used to for long years.
Finally, the tomato mustard chutney compounded my misery.

I chose tomato mustard chutney hoping it would be tangy with mustard flavor. But I couldn't have been more wrong.

Dosateria's tomato chutney was dominated by sweetish tomatoes and the mustard flavor was too faint. In retrospect, I felt that I should have stuck with the green chilli coconut chutney.


Dosateria Breakfast Dosa
Unlike the disappointing Utappam, I'm happy to report that Dosateria's Breakfast Dosa belongs in the
good
category.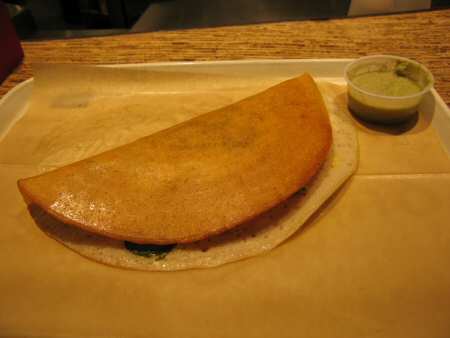 The Dosa came hot to the table along with green chilli coconut chutney. It was crisp and golden brown on top and whitish inside. As promised by the menu, it included jack cheese, spinach leaves, spiced hash brown potatoes and fried egg.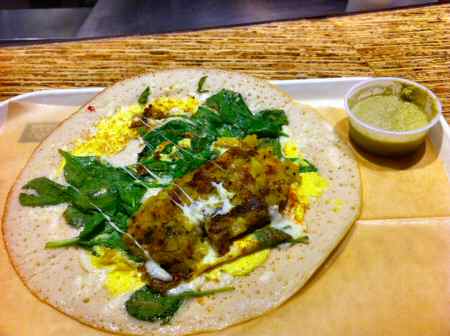 The accompanying green chilli coconut chutney was a bit watery but sour, tangy and nice. While I enjoyed the green chilli coconut chutney, I'd have liked it a tad spicier. I'd also prefer the potato filling to be spicier.
Dosateria Service - Confusion, Clueless, Indifferent
Service at Dosateria leaves a lot to be desired.
The hostess/waitress never cared to tell me that the Signature Dosa was not available until 11AM. It was only after two failed attempts to order signature dosas that she condescended to mention that fact. The cashier and the kitchen assistant were clueless about availability of Sambar.
Also, Breakfast Dosa and Utappam were served on a thin wrapping paper placed directly on a plastic tray rather than in a plate.
The wrapping paper became soiled with oil in no time and toward the end I found it difficult to make small pieces out of the Dosa and Utappam as they got stuck to the oily thin paper. I also had to struggle to remove the oily sticky wrapping paper while trashing the leftovers and chutney containers into the trash bin.
I never got any plasticware with either the Dosa or Utappam.
Cafe Spice Dosateria Rating - Avoid Utappam
If you have craving for Dosas and Utappams, stick to Dosas at Dosateria in Whole Foods Market in Tribeca. If you are a
desi
, avoid Utappam at Dosateria for they are sweetish, thin and best described as Dosa with toppings rather than Utappam. Also there is no paucity of South Indian Dosa places in NYC. If you are in downtown you can visit the
NY Dosas Cart
outside Washington Square Park or
Indian Creperie
on Bleecker St,
Saravanaa Bhavan
on Lexington Avenue in Murray Hill,
Flushing Ganesh Temple Canteen
in Queens and
Dosa Garden
on Victory Blvd in Staten Island. - ©
NYIndia.us