Indus Express NYC Indian Food
Address:


Indus Express

48 W.48 St
(Btwn 5th & 6th Ave)
New York, NY 10036


Closed




Closed
Indus Express NYC Review: Good Chicken Roll, So So Veg Combo
We are no strangers to
Indus Express
in Midtown near Times Square.
A few months back, we tried their Masala Dosa and Bhel Poori Chaat. And we did not like either of them
Masala Dosa was not crisp and had a tasteless, soggy potato filling.
Bhel Poori Chaat was a close competitor to Masala Dosa in bad taste and was horrible.
However, the other day while walking around Times Square area we decided to give Indus Express another try.
Keeping in mind our past experience, this time we skipped the Dosas and Chaats and instead ordered a Vegetarian Combo Meal ($8.95) and Chicken Roll with Chicken ($6.95).
Vege Combo Meal
Indus Express' Vegetarian Combo Deal came with Methi Malai Mutter, Vegetable Kurma, Alu Gobi curry, plain Rice and one Naan bread.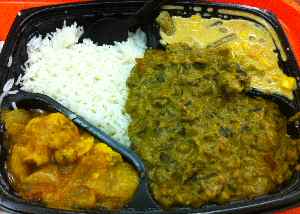 Methi Malai Mutter was flavorful with decent serving size. We enjoyed it with both plain rice as well as the Naan bread.
Vegetable Kurma was creamy and that is all we can say in its favor.
It was not in the least bit flavorful. What is worse, the Green Peas and Corn were so hard as if raw ones were added to the Kurma as an afterthought. An Indian restaurant that can't make a decent Vegetable Kurma is beyond disgraceful.
Alu Gobi was a tasteless monstrosity that New York's Riker Island prison wouldn't serve to inmates.
It tasted as if boiled Potatoes, Cauliflower and sliced Onions were mixed together in a hurry and rushed out by an imbecile in the kitchen. Mercifully, the Alu Gobi serving size was small.
Naan bread came hot to the table and was soft.
Good Chicken Roll, Excellent Curly Fries
Our Chicken Roll had a sumptuous quantity of flavorful grilled Chicken with Onion, Tomato and Cilantro leaves seasoning.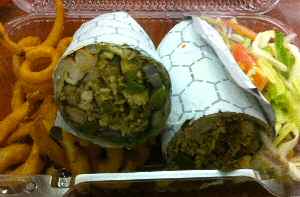 Boy, was the Chicken Roll delicious. We added a bit of hot green chutney to the roll to make it spicy.
We finished one roll at Indus Express and got the other one home where it tasted good even after a couple of hours.
Yes, we recommend Indus Express' Chicken Roll.
Curly Fries were crisp, piping hot and very good.
Salad was alright.
Clumsy Service
Indus Express is a hybrid self-serve restaurant.
You pick up the menu, place your order, pay for it and wait at a table for the food to arrive.
The whole experience was not smooth as our order did not come with napkins or forks.
We had to return to the counter, first for napkins and a second time upon realizing there were no forks.
Indus Express NYC Rating
We relished the Chicken Rolls, Methi Malai Mutter and Naan but hated the other stuff like Dosa, Chaat, Alu Gobi and most of all, the horrid Vegetable Kurma. - © NYIndia.us