Touch of India NYC Indian Restaurant
Address:


Touch of India Midtown

232 W 37th St
(Bet 7th & 8th Ave)
New York, NY 10018


Closed

Closed
Touch of India NYC Review: Below Average Indian Food
After watching a movie at AMC Empire, I was keen on an Indian meal to placate the hunger gods.
Since
Touch of India
is just a few blocks from AMC Empire on 42nd St, I quickly walked over to the restaurant on W.37th St.
As I walked into
Touch of India
around 12:45PM on a chilly weekday, the restaurant was buzzing with people and noise.
No wait staff was around to seat the customers. After waiting for a minute or so, I had to grab a waiter to get a table.
Lunch Buffet
I chose Lunch Buffet ($9.99) as I was hungry and had little patience or time to wait for Touch of India' indifferent wait-staff to come with the
a la carte
menu.
Lunch Buffet included an array of vegetarian and non-vegetarian curries, rice dishes, bread and one dessert.
Here is my take on Touch of India' lunch buffet:
Vegetarian Items
Alu Bajji was the sole appetizer during my visit.
With a freshly prepared texture, Touch of India' Alu Bajji was hot and much relished with tamarind sauce on the side.
Channa Masala (top) Lemon Rice (right)
Naan (left) Alu Bajji (bottom)
Lemon Rice, Channa Masala, Saag Paneer, Yellow Dal, Alu Baingan, White Rice were the other vegetarian items.
With a mild flavor of lime, the yellow-colored lemon rice was just ok. Sure it included some peanuts, but I give it just a B plus for lacking in the sourness required of good Lemon Rice.
The medium-thick Channa Masala was better than what I've tasted at other NYC Indian restaurants but nothing much to write home about.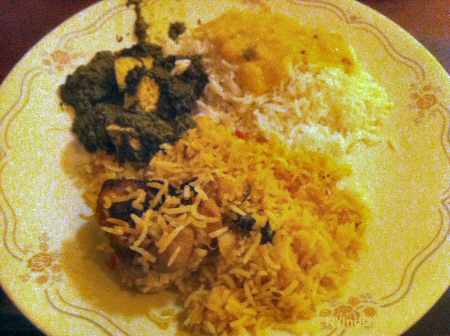 Saag Paneer (left), Yellow Dal (right),
Chicken Biryani (bottom)
Yellow Dal was nothing but well cooked lentils without any flavor.
Saag Paneer was yet another flavorless monstrosity that left my taste buds frothing in rage.
While the Saag was just warm, the Paneer cubes in the Saag were so hot temperature wise as if they were run through a nuclear reactor. Most likely the Touch of India bozos in the kitchen cooked Saag separately and as an afterthought added over-heated or microwaved Paneer cubes to the Saag curry.
By this time, I was so vexed with the vegetarian entrees and decided against subjecting my tastebuds to the Alu Baingan.
Plain white rice was alright and luckily did not suffer from the dry texture common at many NYC Indian restaurants.
Non-Vegetarian Items
Chicken Tandoori Masala, Chicken Biryani and Goat Curry were on the offering for non-vegetarian entrees and rice dishes.
The ugly orange color Chicken Tandoori Masala included a sour gravy.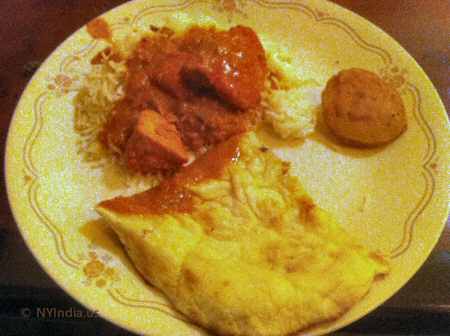 Chicken Tandoori Masala (top)
To make matters worse, the Chicken pieces were tough suggesting either the quality of Chicken used was bad or the Touch of India kitchen does not know how to cook Chicken.
I did not get any relief from Chicken Biryani either. For it was not in the least bit spicy.
The Biryani flavor was so mild that the dish does not merit the name Chicken Biryani.
With one catastrophe following another in the form of Chicken Tandoori Masala and Chicken Biryani, I could not muster courage to touch Goat Curry.
Naan Bread
Touch of India's Naan bread was one of the worst Indian breads inflicted on me.
For it was cold, rubbery and tasteless.
Naan bread is dumped at the buffet station at Touch of India.
Naan bread is best when served at the table fresh from the tandoor.
Desserts
Kheer was the sole dessert available during my visit.
One spoon into my mouth, I wondered why Touch of India even bothered to offer the Kheer to paying customers.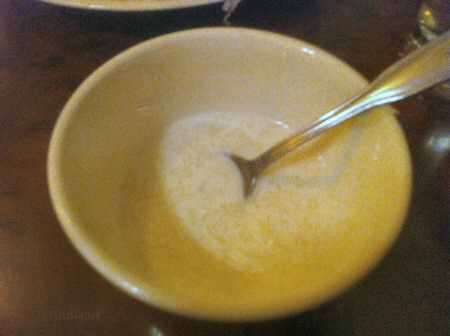 Kheer
For the Kheer that was part of lunch buffet had a vile smell and taste. My guess is that either the Kheer was prepared during the era of dinosaurs or Touch of India's kitchen used spoiled milk.
Ambiance, Service
Touch of India is a cramped place and like a lot of Indian restaurants in the U.S. has no ambiance to speak off.
As you enter, you have the cash counter and tables up front, and buffet station and kitchen in the rear.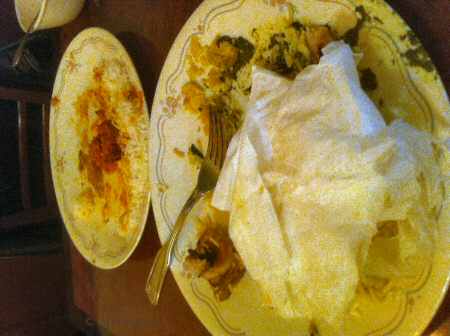 Used Plates Pileup on the Table
The wait staff was too indifferent, even to filling water glasses. Only half way through my meal was water was poured into my glass.
There was not sufficient quantity of Naan bread at the buffet station and nobody cared to refill it.
There were no dessert cups and Touch of India wait staff did not bother to get dessert cups even after multiple requests by several diners.
Used plates were allowed to pile up on the table making the overall cramped atmosphere worse.
Fortunately the silver was placed on top of napkins rather than leaving them directly on the table.
Touch of India Rating - Just Not Worth It
Touch of India
ranks among the many disappointing Indian restaurants I've had the misfortune to dine in.
It's unlikely I'll make this Midtown Indian restaurant my port of call any time soon. - ©
NYIndia.us