Indian Creperie NYC Restaurant
Address:


Indian Creperie NYC

190 Bleecker St
New York, NY 10012


Closed




Closed
Indian Creperie Review: Good Masala Dosa & Medhu Vada
If there's one thing our South Indian taste buds constantly hanker for, it's the South Indian rice crepe
Masala Dosa
.
The mere mention of
Dosa
has us drooling.
So it's no surprise that our legs automatically led us to
Indian Creperie
on Bleecker St the other day.
You see, we were near the intersection of Bleecker St and MacDougal St when our eyes fell upon an attractive green signboard that read
Indian Creperie
.
Indian Creperie Ambience
When we walked into Indian Creperie around 2:30 pm, the restaurant was empty with just one diner digging into his Medhu Vada.
We were greeted by a White gal and shown to a table.
Indian Creperie is a small place with narrow rectangular dining room.
It has limited seating on the right side and the left side has MTR brand Chutney Powder, Sambar Powder and other Indian spice mix packets on display.
The cash counter is at the far end and the kitchen behind it.
The tables were clean and interiors pleasant.
We picked up a menu card from the cash counter and quickly placed our order for Idli Vada Combo and Masala Dosa.
Our Idli Vada Combo came first followed by the Masala Dosa.
Here's our take on Indian Creperie's Idli Vada Combo and Masala Dosa:
| | |
| --- | --- |
| Idli Vada Combo - $5.00 | Masala Dosa - $7.95 |
Idli Vada Combo
The Combo included one medium size Idli, one medium size Medhu Vada, Drumstick Sambar and Ginger and Coconut Chutneys.
Vada was piping hot, crisp and included Green Chilli, Black Pepper seeds and Cilantro seasoning. Vada was cooked/fried evenly and gave no room for complaint.
Idli was hot and looked fresh. Though we enjoyed Indian Creperie's Idli, we will not put it in the best category as it was slightly hard. The best Idli is one that's soft and fluffy. But the accompanying Chutneys and Sambar amply compensated for the slight hard texture of Idli.
Of the two chutneys, we loved Ginger Chutney the most. As with most Indian restaurants that serve South Indian fare in NYC, Indian Creperie's Ginger Chutney too was cold. But it was yummy with a tangy, sour flavor. With perfect medium thick texture, Ginger Chutney was simply divine.
Coconut Chutney was also cold but flavorful. Again just like the Ginger Chutney it was medium thick and we enjoyed it with both Idli and Vada.
Boy, did we hit the jackpot with the Drumstick Sambar. The Sambar was medium thick and came piping hot to the table. With right proportion of Toor Dal, Tamarind and Spices, the Drumstick Sambar was delicious. We dipped small pieces of Idli in the Sambar, let them soak for a few seconds and enjoyed the combination.
Masala Dosa
As we were halfway through with the Idli-Vada combo, Masala Dosa landed on the table with the yummy Ginger and Coconut Chutneys and that delicious Drumstick Sambar on the side.
Masala Dosa was crisp, hot with a nice freshly prepared texture and included a large filling of Potato Curry.
Potato filling was flavorful and gave no room for any complaint.
Needless to say we thoroughly enjoyed this South Indian rice crepe at Indian Creperie.
Gulab Jamun
Content with our pleasant Masala Dosa, Medhu Vada adventure, we paid our bill and were preparing to leave the restaurant.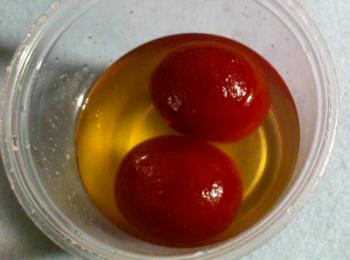 As we were collecting our stuff, we spotted the Chef Suresh Gounder from Salem district of Tamil Nadu.
Chef Suresh Gounder was happy to know about our Tamil roots and quickly offered us a complimentary Gulab Jamun dessert.
With a weakness for anything sweet, we easily succumbed to his offer.
Also, the Gulab Jamun looked so attractive in the tiny plastic container and we just could not say no despite our calorie concerns.
Gulab Jamun was cold, a little hard and the syrup a wee bit high on sugar.
But, hey, it's nice to get a free dessert.
Service
The White gal at Indian Creperie was polite and promptly got us our food.
While we were happy to see a smiling waitress at an Indian restaurant we were puzzled that she never served us water or enquired whether we wanted anything to drink.
Indian Creperie Rating
Notwithstanding our minor irritation about the sloppy service, we would recommend
Indian Creperie
on Bleecker St for all ye Masala Dosa and Medhu Vada aficionados. - © NYIndia.us